Webpages
LL 2379 Officers
| | |
| --- | --- |
| President | Zach Griffith |
| Vice President | Jason Swendt |
| Recording Secretary | Nathaniel Maddux |
| Secretary Treasurer | Agustin Galindo |
| Trustee #1 | Pending |
| Trustee #2 | Pete Powell |
| Trustee #3 | Luke Ackerson |
| Conductor-Sentinel | Craig Nolan |
| Communicator | Open |
| Educator | Open |
District Delegates
Glenn R. Farmer
Pending
Josh Golliher
Zack Griffith
Organizing Committee
Glenn R. Farmer
Agustin Galindo
Luke Ackerson
Zack Griffith
(P)olitical (A)ction (C)ommittee
Glenn Farmer
Zach Griffith
Open
IAMAW Links
Guide Dogs of America
Started by a retired Machinist, the Guide Dogs continues to be supported by the International Association of Machinists at Local, District and International levels.
District 160
Business Representitive
GLENN R. FARMER
360 380-2569
Next Union Meeting
January 11, 2018
***************
Download the 2018 Local Lodge Meeting Schedule
***************
Dues issues? Contact the KC Barber @ 907 338-7180
***************
Solidarity!!!

***************
***************
***************
*******************
******************
I-732 Carbon Tax Defeated!!!
*******************
*******************
***************
Young Machinists Meeting

Interested in the next level of participation? Curious about how the Union works? Want to learn more? Join the Young Machinists!
Contact Rusty Grable via email or at 360-689-6551 for more information
Next Meeting:
Marco Polo Bar & Grill
5613 4th Ave South
Seattle, WA 98108
***************


The Members Decide
on the Contract and the Authorization to Strike
Unions are participatory.... Here's what you can do: The Union Member's Complete Guide, by Michael Mauer
Follow IAM_Local_2379 on Twitter
Contract and Local Lodge Info
Union Meeting Dates for 2015
NEW! March 2017 Evergreen Leader
The Evergreen Leader is a quarterly publication by District 160.
More Information
Organize!!!
The IAMAW represents shops in manuafacturing, ship repair, auto mechanics, flight instructors, municipalities, machine shops, and is the largest aerospace union in the US and Canada. Call Local 2379 for more info.
Current Contract Negotiations
City of Blaine, City of Lynden, Fairhaven Shipyard, Jerry Smith Cars
Machinists Health & Welfare Contact Info
Heath & Welfare for Machinist Plans HERE
---
Local Adds Twitter and Facebook
IAM MOBILE 3.0 AVAILABLE NOW!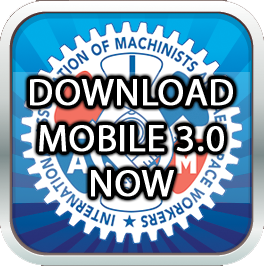 This may not be available to Intalco members due to firewall.

LL 2379 Meeting Dates 2016

Executive Board Meets at 6:00 PM

General Membership Meets at 7:00 PM
Union Hall 2064 Vista Drive – Ferndale, WA 98248

Jan. 11

May 3


Sept. 13


Feb. 1

June 7

October 4


March 1


July
- No Meeting

Nov. 1


April 5


August
- No Meeting

Dec. 6

Local Lodge Meeting
General Membership @ 7pm
Executive Board meets @ 6pm
First Thursday of each month unless a holiday falls on the week of the meeting. Meeting is moved to second Thursday in event this happens.
---
Dates to Remember
****
District 160 Shop Steward Training
Seattle Offices - June 3, 2017
****
Run for the Dogs
District 160 Charity Motorcycle Event
July 22, 2017
For information, flyer or registration/waiver forms, visit www.iam160.org/ 2017runforthedogs.html or email ron@iam160.com
---
IAMAW Store
Shirts, Jewelry, jackets, bags, more.....
---
Education Links
---
News Links
Bellingham Washington Community and Visitor Information
---
Reference Links
2379 Shops